As baseball begins its twelfth season in downtown Greenville this week, I took a trip down memory lane thinking about what I'll miss most after 10+ years as the "Director of Fun" for the Greenville Drive baseball club. Here's the pics that I found in the vault. Enjoy.
1. The Celebrities
Over the course of 10+ years, many celebrities have come to visit. I've gotten to see several famous big league ballplayers, like Roger Clemens, John Smoltz, and Jim Rice, but, also, folks like Dan Marino, Bubba Watson, Evander Holyfield, and John McCain. Right before he announced his bid for the presidency in 2008, McCain came through and we went on-camera to talk about his favorite Southern foods, among other things.
2. The Contests
Some of the major fun in the minor leagues are the crowd engagement pieces. I often told people that my job was to help people who didn't care for baseball to have the best time possible. The contests we constructed were a big part of that. Every year, the Greenville Drive held our version of the Independence Day hot dog eating contest everyone watches on ESPN. We changed it up between ballpark dogs and ribs throughout the years. Note: I still never eaten a ballpark hotdog!
3. On-Field Games
My bread-and-butter were the between inning breaks. A 70-game season has over 1100 of them! I filled them with home-run derby, tug-o-war, musical chairs, dance battles, giveaways, races, and the infamous dizzy bat spin. The memories from these are literally endless.
4. Pre-Game Ceremonies
Before each game, friends in the community are always invited to join the players and JDew's crew on the field to start a baseball game. I feel as though I got to meet and talk with everyone in the State. The scouts, business leaders, service men and women, graduating seniors, the Lt. Governor, school board officials, recently ousted reality TV contestants, and even the occasional terminally ill child were some of our honored guests. Here's a picture with "Radio," who was played by Cuba Gooding, Jr., who said "play ball!" for us a few times.
5. Sweet Caroline
Every. Single. Game. We are a Red Sox team, of course. Any beantown Baseball fan knows what's coming over the loudspeakers in the middle of the eighth inning. It's funny to think that the song never got old for us. There's no better combination than Neil Diamond, JDew, and all the fans yelling "so good, So Good, SO GOOD!"
6. Visiting Entertainers
Several times each year, we'd invite traveling entertainers to be a part of our entertainment. I especially enjoyed Myron Noodleman (played by the Uncle of Bill Hader), Reggy The Purple Party Dude, and the Zoo!perstars, who you may remember from season 5 of "America's Got Talent." One of their characters, Mackerel Jordan, (see what they did there?) took a huge bite out of JDew once, and had all the fans in stitches.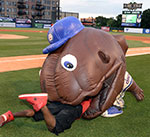 7. The "Before They Were Stars" Stars
No, I'm not just talking about the players who made it to the big league. But, Greenville has hosted her share of those. Our first big claim-to-fame player was Clay Bucholtz, who was with us in our inaugural season, 2006. Clay threw a no-hitter for the Red Sox in his second-ever start. What I remember most, wasn't the players, but, their friends and family who I was able to meet in the seats: Astros outfielder Josh Reddick's dad, who never sat down in a chair, the World Series winning Cubs first baseman, Anthony Rizzo's mom, and her thick Boston accent, but most of all, the state-wide embarrassment from the mouth of "Play Ball" announcer Caite Upton, who, two weeks before her national TV faux paus while Miss SC Teen USA, was on the field with me talking about her grandfather's time in the mill league baseball circuit in South Carolina. Watch her "maps" statements again!
8. The Foul Balls
I'll tell you right now that I WON'T miss any of these! All of the fans run straight toward these homing missiles, but, the staff, we run away from them as fast as we can. Foul balls are a great keepsake for 10-year old boys who've brought their gloves to the game, but, I don't fit into that group in the least. I think I was hit by a few here and there, but, there are no major bodily injuries to report. The insurance claim from JDew came from my front windshield that was spiderwebbed from a rocket in 2008.
9. JDew's Crew
My hand-picked promotional squad will be missed the most of all. Ten years of baseball equalled around forty girls and guys who sung, danced, corralled, motivated, and cheered on the spectators night in and night out. I love you all. Thank you.
10. The Fans
Without you, our audience, there would have been no JDew. For me, you made Greenville Drive baseball "The Perfect Game."
If you or your organization are looking for an emcee, entertainer, or speaker, contact JDew here.